Another whole year has come and gone, wow. With the release of Seed Me and the score World Mother it has been quite busy with little downtime. First of all, a big shout out to everyone who supported me this year with the launch it has been humbling and motivating!
Welcome to December's edition of Unprocessed Thoughts.
With Christmas behind us and New Year's only a day away, it is often a time where people self-reflect and plan New Year's Resolutions. Personally I have never been much for new goals each year. I've been a strong believer in 10, 5 and 2 year goals – it gives something to work towards in the long run.
Regarding goals, this year has been full of them and one thing I would like to note that suffered because of it is the lack of content on the blog for the past few months. There will be interesting content to read in the following year.
There are good reasons for the vacancy though, I have been in the process of plotting 2017 and writing new literary work. This mystery writing has been kept on the down low until a few more details are worked out. Then an announcement will be made. I have given a few hints to what it is in the last Unprocessed Thoughts and in a recent Instagram post, regarding Mental Damnation – exciting!

You may have also noticed some information has been updated on my about page. You can check out the status of my latest novel.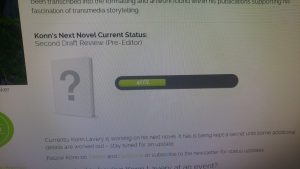 I also am pleased to announce that in 2017 I will be working with publicist Mickey Mikkelson of Creative Edge. The goal for this is to allow more book signings, events and media coverage in the New Year. Other than that, there isn't anything more to share for the rest of 2016.
Everyone has quite strong opinions regarding the content of the year, for good reasons. May the last day of it bring you joy. See you all in 2017!

Beer Note: The Grizzly Paw Brewing Company – Rutting Elk Red
The Grizzly Paw Brewing Company is one I enjoy dearly for the artwork and Canadian references. I discovered the brand on a trip to Banff, seeing the brewery in Canmore. I had to try it out. The Rutting Elk Red has to be the strongest of the variants. I generally go for IPAs, this is a pale ale so not nearly as hoppy as what I normally drink. Still a great drink, I'd give it a 3.5/5 for my personal tastes of stronger beers.