By McKensie Stewart
You wrote your book in record time, surpassing all your self-imposed deadlines.  The carrier service rings your doorbell, you snatch the box from the delivery guy's hands barely scribbling your signature acknowledging the receipt of the treasure within the box.  You close the door with a bump of your hip and race to the kitchen table.  No need for a box cutter you peel the tape securing the contents of the DREAM, your dream of becoming a New York Best Selling Author.  That's right you said it; you will be on this prestigious list. You rip the box open and there it is your master piece, your book.  You grin a wide smile from ear-to-ear.  You know you will sell the contents of the box and more because you were told you are an excellent writer and your book will be turned into a movie in no time.  You scurry up the stairs to your office, pull out the list with all the names of everyone who ever told you they would purchase your book.  Tirelessly, you call every name on the list only getting the commitment of five people on the list; two of the five are your parents.  You flop in the ergonomic chair you convinced your spouse you needed to be a better writer.  Now What? You have two choices: Once you sell the five books, the unsold inventory can be used as doorstops throughout your house.  This is an option but is an expensive way to prop open a door.  Or you can promote your book to a wider audience.
Here are three simple ways to promote your book:
Establish Your brand. Who are you? Visualize yourself across all media platforms how do you want the public to understand who you are.  I decided to brand myself by using a pseudonym (pin name).   I wanted to separate my professional life from the books I write. If you write children's books your website should not have adult content. Look at what your brand says about you.
Social Media Presence. You will at least need Facebook as a social media platform to establish yourself as a writer.  This is a great way to highlight your work and post content associated with writing, book promotions and a place to keep your fans engaged which means you must create a separate account from your personal.  Rule of Thumb, stay away from political rhetoric on your author page.
Book Signing: You sell more books by inviting your friends and family to a book signing instead of calling them individually.  The pressure of everyone  making a purchase will influence them to open their wallets.  You should have books on hand to purchase along with light snacks.  You can read excerpts from the book to entice them to want to know more about the characters and the plot.
The three steps are the first steps in promoting your book.  If you want to know more about marketing or self-promotion contact me on social media (McKensie Stewart) on Twitter and Facebook.
You can listen to the Writer's Edge with McKensie Stewart every Friday 3:00 pm-5:00 pm CST on the Fishbowl Radio Network (FBRN.US; Grey Stream).
About McKensie Stewart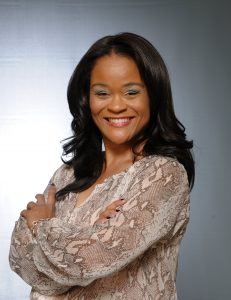 McKensie Stewart is a native of Columbia, South Carolina where she attended Columbia College.  Currently, she is an educator, fictional novelist and entrepreneur living in Charlotte, North Carolina.  McKensie enjoys long walks on the beach with her Yorkshire Terrier, Jewel, when she isn't terrifying and romancing her readers.  Presently, she is working on her next novel.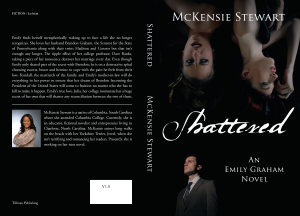 Shattered
Emily finds herself metaphorically waking up to face a life she no longer recognizes.  She loves her husband Brendon Graham, the Senator for the State of Pennsylvania along with their twins Madison and Connor but that isn't enough any longer.   The ripple effect of her college professor, Dave Banks, taking a piece of her innocence destroys her marriage every day. Even though Emily only shared part of the secret with Brendon; he is on a destructive spiral choosing escorts, booze and heroine to cope with the pain he feels from their loss.   Kyndall, the matriarch of the family, and Emily's mother-in-law will do everything in her power to ensure that her dream of Brendon becoming the President of the United States will come to fruition no matter who she has to kill to make it happen. Emily's true love, Julia, her college roommate has a huge secret of her own that will shatter any reconciliation between the two of them.