I am pleased to share that the book launch for my new novel will be happening this month!
When? June 20, 6pm PST
Where? Facebook.com/konnlavery
This is a short livestream event (30-40 minutes) that anyone can come and listen to. If you're eating dinner or hanging out with friends, save the date and tune in. We will cover the following:
About the Book
Chapter Reading
Artwork
Q&A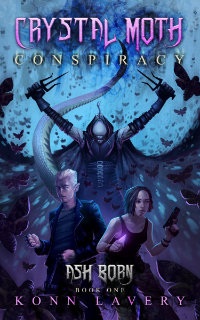 Crystal Moth Conspiracy
Ash Born Book One
Lola Cabello is a fugitive after exposing the law's connection to the notorious Crystal Moth gang who destroyed her life and family, igniting her need for revenge and descending her into a world of reptilian drug lords, demons, and the fantastic.