For January's guest, we welcome horror author Jennifer Anne Gordon to discuss her The Hotel series with the new finale, When the Sleeping Dead Still Talk, the sequel to From Daylight to Madness.
She has been a contributor to Ladies of Horror Fiction, as well as Horror Tree. Jennifer Anne Gordon is the Winner of the Kindle Award for Best Horror for 2020, as well as the Winner of the Authors on The Air Award for Best Horror for 2020, and a Finalist for American Book Fest's Best Book Award for the Horror Category. She is the creator and a host of Vox Vomitus, a video podcast on Global Authors on the Air Network. She also guest hosts the YouTube channel "Talk Horror to Me". Jennifer is a member of the Horror Writers Association.
Let's welcome Jennifer to the blog!
Jennifer Anne Gordon, thank you for joining us. Can you introduce yourself?
Hello! Thank you for having me. My name is Jennifer Anne Gordon, and I am a horror and speculative fiction author living in New Hampshire. I am also a professional ballroom dancer and choreographer.
The Hotel is a two-part series with the finale being When the Sleeping Dead Still Talk. Can you tell us about the series?
The Hotel is a dark Victorian Gothic Horror series. The series centers around two very lost and damaged souls, Isabelle and Francis. They both have found themselves at a summer "Hotel" which is actually an asylum of sorts. Isabelle has been sent there after the death of her infant son, and Francis…well I can't say too much about why Francis is there, as that is the basis for the book When the Sleeping Dead Still Talk.
Even though the story is done, any plans for spinoffs, prequels, or related stories? If not, what's next?
Isabelle and Francis' story is done, but I have thought about a couple of novellas that would be paired together. A prequel, centering around the deeply disturbing antagonist Dr. Hughes, as well as another story that would center around one of my side characters Agnes, which would tell the story of what happened to her in her "post hotel" years. I am on a break from the Hotel world right now though.
I have been working on a new novel, which is literary speculative fiction, sort of a combination of Contagion and Lost in Translation.
You write Gothic Fiction, and your visual work follows similar themes. What pulls you into the darker side of art?
I have always been fascinated by darker things; I am not really sure why. I could blame reading Pet Sematary when I was 10, but I think the fascination started before that. Maybe it was because I used to play in a cemetery when I was young. I love the ephemeral nature of time, and how fragile our lives really are. All of that plays into the writing…and I have always loved the past, and memory, so gothic fiction is the perfect vehicle for that. It also allows me to write in a more lyrical way, so sometimes the language borders on poetry.
Tell us more about your career in the entertainment industry, you've had quite the background.
I studied acting at the New Hampshire Institute of Art and worked in regional professional theatre for years. I stopped doing theatre when I moved to the Midwest, while living there I started to take ballroom dance lessons. I had danced for 10 years growing up but I had never danced like that before. Within the year I had been hired at the dance studio I was taking lessons at. I have a wonderful dance partner (he's my husband now) and together we really developed a unique way of dancing, and we were lucky enough to be able to travel and perform in some incredible places. I was also the choreographer and creative director for the cabaret and burlesque troupe Absinthe and Opium for five years.
What got you into writing, and did your previous professions help shape it?
I've always been a writer in my heart, and have written my entire life, mainly poetry, and for a short time I wrote an indie comic book. I think the thing that has helped my writing the most is my background in theatre, and my skills at character development. I do the same work on the characters in my book that I used to do to make a character believable on stage.
You've been in many creative industries, any advice you'd like to offer new writers?
I would tell them just to write. Put words on paper, even if you think they are terrible, or that it's all just "word vomit". You can always edit or rewrite, but you can't so anything with a blank page.
Let's thank Jennifer Anne Gordon for joining us to talk about her new novel, When the Sleeping Dead Still Talk!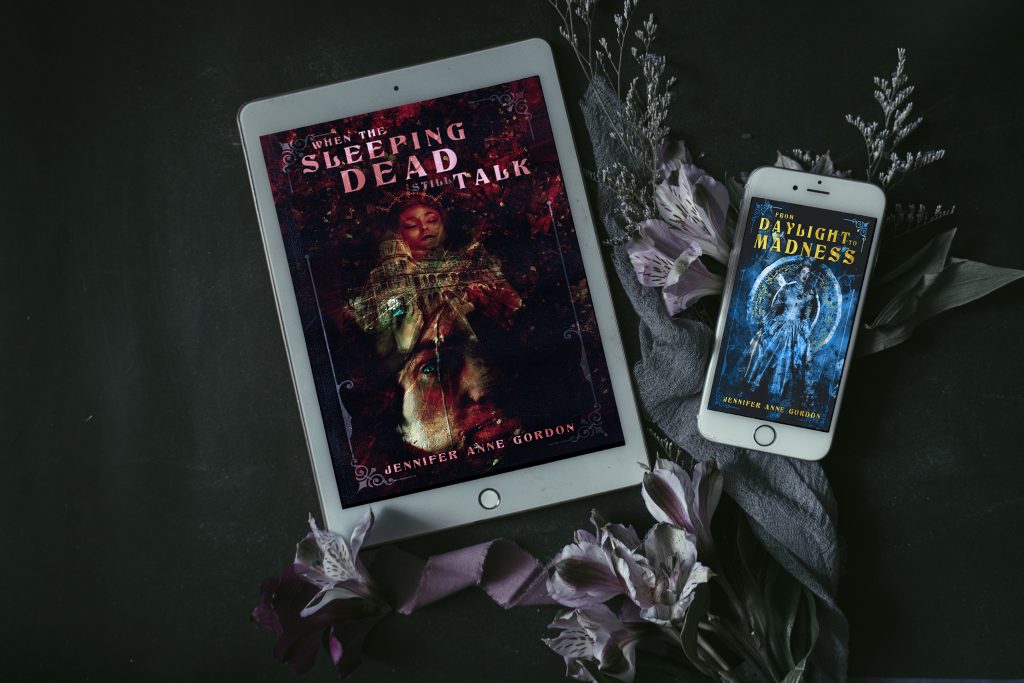 Jennifer Anne Gordon's Novels
Jennifer on Social Media
Facebook – https://www.facebook.com/JenniferAnneGordonAuthor
Instagram – https://www.instagram.com/jennifergenevievegordon/
Twitter -https://twitter.com/JenniferAnneGo5