2018 Fall has arrived with a vengeance! Buckle up; we're in for a ride. We got snow at the Edmonton Expo last weekend and went back up to plus double digits; this is Alberta. Regardless of the weather, the turnout was quite exceptional at the comic con and am pleased to see so many returning readers looking for the new Mental Damnation novel.
Let's recap some of the Edmonton Expo, Purity launch, and what is next.
Welcome to another edition of Unprocessed Thoughts
Again, thank you to everyone for the support regarding Purity's launch. It was the top seller at the Edmonton Comic Expo this year. Wow. A humbling experience for sure.
Edmonton Comic Expo 2018
This year at the Edmonton Comic Expo I was at the Artist Alley again, close to some author colleagues like Suzy Vadori, Erika Knudsen and Clare C. Marshall. There were many other great authors out and about the expo too like Adam Dreece, Vince Seim and I.B. to name a few.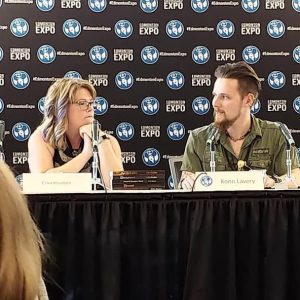 Day One
The day before opening, we were able to set up as usual and be prepared for day one, Friday. There was a surprisingly low turnout on Friday but many enthusiastic people who arrived early to explore the vendors and attend the panel I attended with Erika Knudsen. This panel was titled "Inside the Minds of Horror." Both of us come from very different horror backgrounds and writing processes which created some opposing views and engaging answers for the audience.
Day Two
Saturday, the big day. There were the major star attractions that every attendee wanted to have a photo with. I also had a second panel with Suzy Vadori and Adam Dreece titled "You finished your manuscript, now what?" which allowed us to share some helpful information with new or struggling writers.
Day Three
The last day of the expo was a much more relaxed day as there wasn't any panel juggling. I stayed at the booth for the most part engaging with new readers and sharing insights into the new Purity novel.
All in all the expo was a delight and a major success. It would be up there with the Calgary Comic Expo earlier this year regarding sales and engagement. Thank you, everyone, who came by to say hi, it was a busy weekend and didn't get a chance to see everyone!
The End
The Edmonton Comic Expo was the last expo for the year. I have one more book signing coming up on October 27th at Edmonton Strathcona Chapters. Be sure to drop by if you are in the area and want to snag a copy of Purity.
What's Next? Well Buckle Up and Find Out
After the signing, it is straight up writing time! I am excited to say that I will be participating in NaNoWriMo this year. The last time I did was in 2015; it has been way overdue. This year's project will be the Rutherford Manor novel. If you didn't know, Rutherford Manor dropped their Kickstarter campaign as well for the original TV series. Lots of gears in the works with the Rutherford Manor crew, we'll have more to share about the novel in the coming months.
Buckle Up; we're in for a ride.
Beer Note: Dunham Hemen Eta Han
Dunham's Hemen Han has some beautiful artwork on the front. I am a sucker for fun artwork on craft beer. The Quebec-based beer as a hint of blackberry underneath its light hoppy flavour that is enjoyable for one bottle. The 5.2% alcoholic beer comes in a 750 ML bottle with a fun custom illustration on the front. This way you have something interesting to stare at while you drown in the abyss of your deepest thoughts. All that aside, with my hoppy taste buds in mind; I'd give this a 3.8/5.