Beth Wagner and Konn Lavery discuss self-publishing novels and comics
The first expo of 2017 started off with a bang. I was a part of two panels and four days of costumes, comics and pop culture! It was an opportunity to showcase the new edition of Mental Damnation: Reality and Seed Me. Both of these novels were not available at last year's con.

The very first day was when Beth Wagner and I hosted a Journey to Self-Publishing talk, similar to the one we did at the Edmonton Comic Expo 2016. It was kept in a Q&A styled format, allowing the audience to ask any questions that they were seeking insight for.
Four Days of Calgary Comic Expo 2017
After the first panel on the first day, the rest of the convention was fairly busy compared to last year. The booth was kept on the second floor of the Big Four building, where they happened to also put Stan Lee and Tod McFarlane. This drew in a lot of traffic during the days that they were there.
The Saturday had the most costumes of the four days and I snagged as many photos as I could while chatting with people. Check out some of the costumes shared below.
Sunday was the second panel where I joined authors Adam Dreece and Ron S. Friedman in another freeform Q&A styled panel titled Want to Pursue Your Dreams of Writing. The panel was well received and it was a pleasure to catch up with audience after the panel to discuss more about writing.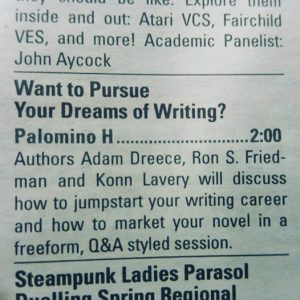 Over the four days I was able to catch up with familiar faces such as horror author Matthew GIllies, who we shared a booth and a panel together last year. Reg of SANE Clothing, and Vince Seim / Chance Clark of the H3 trilogy, among many other artists, authors and vendors. The con is so large it was tough to try and find everyone, but hoping to catch up with more and meet new people at the Edmonton Comic Convention in the fall.
I've got many more stops throughout the spring and summer before then, so keep watch on the blog for more announcements!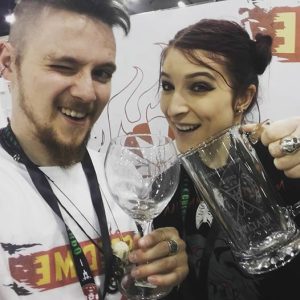 Calgary Comic Con 2017 Costume Gallery