We have an additional guest author this month who offers a very insightful look into her debut novel, The Freedom Broker which focuses on international kidnap and ransom. This is a topic that is gaining more attention as we are seeing more and more of it in the real world, hence abduction insurance when traveling.
K.J. has stated that as a stat, kidnapping is becoming an international crisis with over 40,000 reported kidnaps a year. She also is an expert in this field, and actually also does kidnap/travel safety talks as well as book clubs on the subject via Skype or phone. So let's give a welcome to K.J. Howe.
Thank you K.J. Howe for joining us this month to chat about your writing, can you give us more detail about your background and expertise on the industry?
I really appreciate you taking the time to have me on.  As you mentioned, with over 40,000 reported kidnappings every year—which translates to five people every hour—the world of kidnap and ransom is taking on a newsworthy role across the globe.  Displaced military and police in third world countries have no way to put food on the table, but they do have security skills, so they have turned to kidnapping as a way of making a living.  Also, terrorists are using kidnapping as a fundraising enterprise, filling their coffers with over 125 million dollars since 2009.  Kidnappers used to only abduct high net-worth individuals and executives of multi-national organizations.  Not anymore.  Journalists, aid workers, and family members of executives have now become high value targets.
Kidnapping is a growing international crisis.  What tools do we have to fight against this increasing threat?  There are twenty-five elite kidnap negotiators who travel to the globe's hotspots to bring hostages home, through negotiation or recovery, and they are called response consultants or freedom brokers.  I have immersed myself in the world of kidnapping for the last three years, interviewing kidnap negotiators, former hostages, kidnap and ransom insurance executives, hostage reintegration experts, psychiatrists specializing in the captive's mindset, and the Special Forces soldiers who deliver ransoms and execute rescues.  My debut thriller, The Freedom Broker, showcases elite kidnap negotiator Thea Paris in the case of her life with a very special client:  her father.
What made you want to write about kidnap and ransom?
It's a horrific existence to be a captive.  Kidnapping is a purgatory of sorts.  You're alive, but you're not really living, and your life is frozen in time.  You require permission for anything you need—your captors dominate every move of every day.  When I met former hostage Peter Moore, the longest held hostage in Iraq, his experience touched me deeply.  Peter was taken with four British military men, and Peter was the only person to survive the ordeal.  He had to deal with mock executions, batterings, poor food and hygiene—but his internal resilience was such that he was able to survive the ordeal and is now living in the U.K.  I feel fortunate to call him a friend, a personal hero.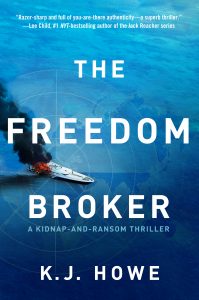 Tell us about the novel, The Freedom Broker.
My character Thea Paris watched as her brother was kidnapped in Africa when she was eight and her brother twelve.  Her brother returned home after nine months, but he was forever changed by the experience of being held captive and being forced to become a child soldier.  Thea bears guilt that she was frozen in fear, unable to help her brother.  Fast forward twenty years, and Thea is an elite freedom broker in the case of her life.  Her father is abducted, and the kidnapper isn't sending any ransom demands, but rather mysterious Latin texts.  Will Thea let her family down again?
Have you written novels before or has this been your first break into the literary industry?
I attended Seton Hill University and completed a Master's Degree in Creative Writing.  During that time, I completed a thriller about a female sniper.  It was a wonderful learning experience, but that novel was more of a learning experience.  When I locked onto my character Thea Paris, I knew I had found the right fit.  The Freedom Broker is my first published novel.
What is next on your list, is there possibly a sequel to The Freedom Broker?
I was fortunate to sign a two-book deal, so Skyjack, the next Thea Paris adventure, will be coming out next February.  Thea is shepherding two former child soldiers from Africa to London when the plane they are on is hijacked.  The adventures kick off from there.  The novel features secret stay-behind armies from WWII, the Sicilian Mob, the CIA, and the Vatican.  Warning:  do not read it on a plane.  J
I'm also researching future Thea Paris novels, as I have many rabbit holes to explore in the world of kidnapping. I love visiting the locales where I set the stories, so I can bring a ring of authenticity to the settings.  Travel and adventure are my passions, so it's no hardship to spend time abroad.
Any final comments you'd like to share about your novel or in general regarding your work?
I'm a member of the Rogue Women Writers, and we blog about intrigue, espionage, kidnapping, and many other topics.  Come visit us at www.roguewomenwriters.com.  Also, I love hearing from readers, so please drop me a line anytime via www.kjhowe.com.  It was a real pleasure being on your blog, and I thank you for the opportunity.
Thank you again K.J. Howe for joining us and giving an insight into kidnapping and ransoming.
You can find K,J. Howe's novel, The Freedom Broker, on her website at www.kjhowe.com.
You can also follow her on Facebook, Twitter and LinkedIn.