For February's guest author, we welcome JP McLean, who has always been fascinated with supernatural thrillers. Her work has earned honourable mentions at the Whistler Independent Book Awards and from the Victoria Writers' Society. She grew up in Toronto, attended the University of British Columbia, and lived in many exciting places in her life. Now, she joins us to discuss her writing, The Gift Legacy series, and how she got started.
Let's welcome JP McLean to the blog!
JP McLean, thank you for joining us. Can you introduce yourself?
I'd be happy to and thanks for having me on your blog. The "J" in JP stands for Jo-Anne, but because Jo-Anne can be spelled so many different ways, I decided to simplify and use JP instead to make it easier to find me online. I live on a small island on Canada's west coast, or "wet coast" as it's often called. I've been writing full-time since 2010.
I write what I love which are urban fantasy thrillers with a provocative edge. The tagline for The Gift Legacy series is "Everybody wishes they could fly—until it happens." The books are set on the west coast in the here and now and are about a secret society of people who can fly.
You were always interested in urban fantasy. What got you into writing professionally?
I started writing professionally after my husband and I returned to the west coast. We'd spent five consecutive winters in the sunny south, two in Mexico and three in Arizona. It was late fall, and after we unpacked and settled back into the house, I found myself staring out at the cold, grey, rain-drizzled deck. The days were still getting shorter and the wet weather had just begun. I knew I needed to do something to keep from going stir-crazy. That's when I started forming the story that would eventually become Secret Sky. And though there have been many bumps along the road since then, I've never looked back.
Initially, you were not planning on writing a series, but The Gift Legacy grew! Tell us about the series.
You're right! I'd thought Secret Sky was a one-off book. But after I finished writing it, I couldn't stop thinking about the characters. Having spent so many hours every day with them for months on end, I missed them. And so I began imagining how I might grow the series. Something interesting I've learned is that flexing the imagination muscle makes it stronger. Soon I had enough material for a trilogy, and the series now stands at six books with a companion book that tells Secret Sky from a different character's perspective.
Each book in the series ups the stakes for the protagonist, Emelynn Taylor, and her circle of friends. In the first book, Emelynn's fall from the sky puts her in the hospital where she meets a doctor who recognizes the second lens in her eye that marks her as one of them—a Flier. He introduces her to others like her who teach her how to fly. She falls in love with one of them, but the more she learns about this secret society the more she questions their motives and just how dark their secrets really are.
In the second installment she finds and old book of her father's that ties her to a powerful family with a sinister reputation. She learns of not one, but two new threats, and one of them aims to kill her.
In the third book, she learns that the man who tried to kill her is part of a larger, organized faction that wants to destroy the Tribunal that rules them. She's forced to partner with a man she doesn't trust in order to protect her circle of friends.
In the fourth book, Emelynn has been recruited to use her special skills and work with a police detective. Her first undercover case involves a grisly murder that implicates one of her own kind. To solve the case, Emelynn must get uncomfortably close to a drug-dealing murderer who has no qualms about killing again to avoid being caught.
In the fifth book, Emelynn continues to work with the police detective. This time she's tasked with finding a missing newborn. But when Emelynn's lover is the next to disappear, Emelynn suspects the two cases are connected. She and the detective defy orders to unravel this new treacherous scheme. And closer to home, a deeper deception simmers, one that Emelynn has spent her whole life perfecting.
The sixth and final book in the series puts Emelynn's loyalties on trial. Does she believe the family of Fliers she's come to love? or a mother she's estranged from? Her choice is explosive and sets Emelynn on a collision course with two titans and a battle she can't possibly win.
So, what's next in your writing? Does The Gift Legacy series continue?
I've left a trap door or two in the series that I may open to write another book or short stories, but right now I'm exploring a new cast of characters in a new series. The first book, Blood Mark, is finished and I'm actively looking for an agent and/or publisher.
Here's one I haven't shared before: When I was a teenager, I was so scared to take my driver's road test that I renewed my learner's permit three years in a row.
Any advice you'd like to offer new writers who read the blog?
Don't wait for an idea big enough for a whole book to come along before you start writing. Begin with a small idea or an interesting character. Write a single scene. You'll be surprised how that act of faith can spur more ideas.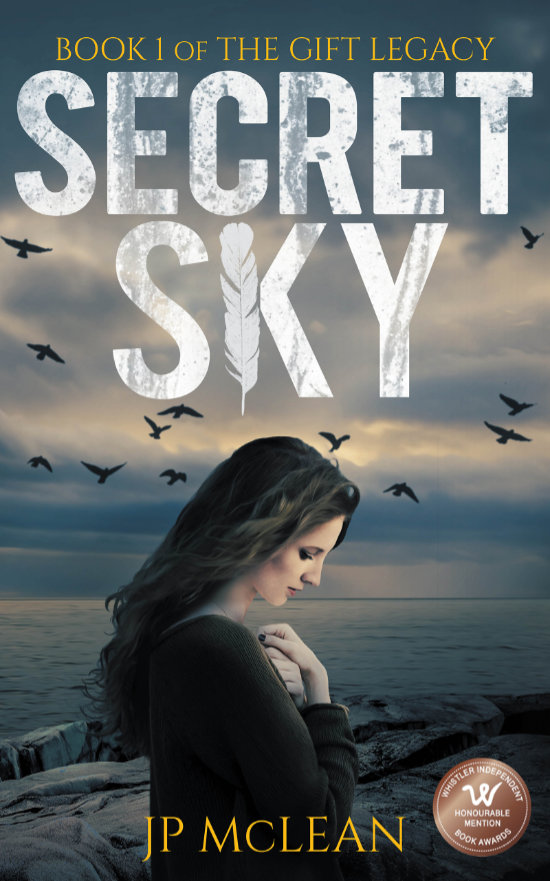 Let's thank JP McLean for joining us to talk about her work!
JP McLean's Novels
JP McLean on Social Media