For July, we welcome international bestselling author V. S. Holmes to discuss their range of writing and the new novel Blood and Mercy. V. S. Holmes has written the REFORGED fantasy series where the first book, Smoke and Rain, won the New Apple Literary's Excellence in Independent Publishing Award. They have also penned several anthologies and written the Nel Bently – STARSEDGE science fiction series.
V. S. Holmes is also a contract archaeologist throughout the northeastern U.S. and lives in a Tiny Home with their spouse. Let's welcome V. S. Holmes to the blog!
Hi V. S. Holmes, thanks for joining us. Can you give us a brief intro about yourself?
Sure thing! Firstly, thanks so much for letting me drop by. I'm a life-long science nerd and avid reader, so I've spent most of my life bouncing between creative endeavors like writing and hard science, like biology and archaeology. In the past few years as my disability progresses, I've switched gears to focus on smaller projects, but I'm always busy. My spouse will tell you the one thing I can never do is relax! In my reading and writing I'm a fan of anti-heroes, and morally gray characters.
Your website expands on the fantasy world of REFORGED, how has archiving the world-building process been?
I always have to know how things work, which makes for deep world building (and as my beta readers and editors can attest, rather chonky word counts). My brain is highly disorganized, so my external world has to be tidy, and part of that is keeping detailed maps and tables of my world. There's incredible freedom in crafting a world from the ground up, but that can lead to entertaining and frustrating inconsistencies if we're not careful. Luckily, readers love these behind-the-scenes glimpses, so I get to share the world with them on an even deeper level. There are several more maps to come, especially as one character strikes out into the northern ocean reaches to explore.
The REFORGED series had the fourth novel, Blood and Mercy, released June 27th, 2020, is there more to come in the series? Or perhaps a new series in the world?
Blood and Mercy marks the end of this particular arc in the Blood of Titans world, but I'll be returning soon! I've outlined a prequel series within the world to explore the beginnings of the Gods' War that we witness in Reforged. First, however, we will follow two of the smaller characters from Blood and Mercy a few years afterward, starting with Dagger's Dance (2022). The world is changing and becoming ever more industrial, making these next books closer to the flintlock fantasy subgenre, so get ready for steam engines, firearms, and a deinonychus cavalry. Yeah, you read that right: here there be dinos!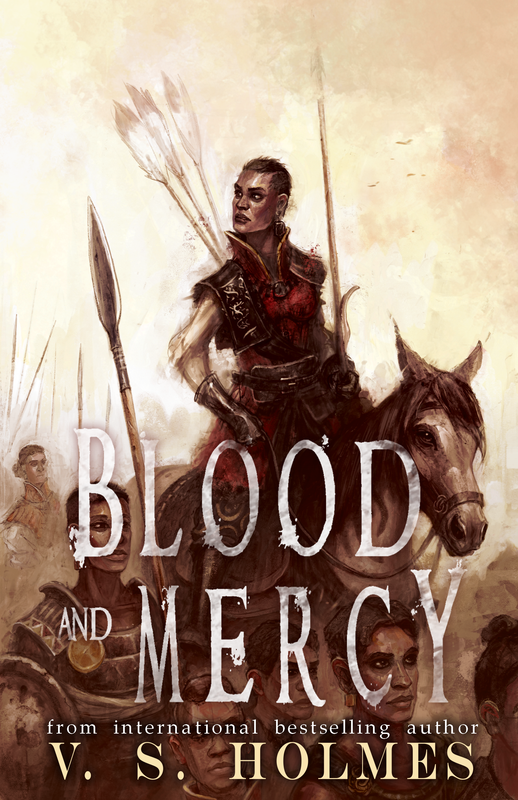 On your site, you mention REFORGED has been with you since a teen, did you intended it to be a series or did it evolve?
In its original iteration, the series was a single book encompassing the events of Smoke and Rain and Lightning and Flames. Half-way through my long stint at university, however, a new character surfaced, navigating the aftermath of the events of the first book twenty years later and I realized there was more to the story. By the time I started the querying and publishing process, both tomes were ultimately split in two. I've since learned that, with one notable exception (so far), I'm incapable of writing stand-alone works!
Excellent covers! Who is the illustrator that you work with, and how is the creative process like with them?
Thank you! I've been very lucky finding cover artists. The Reforged covers were done by Ben R. Donahue, a SFF digital fine artist who I met at a comic con in 2013. The next few covers for Blood of Titans will be by Aaron Buldoc, who I also met at a con! It's an interesting process taking hundreds of thousands of words and boiling them down to a single scene that encapsulates the tone and character. For my briefs, I usually describe a scene or moment, include any reference photos for the character's look, fashion or weapons, and the color palette and then go from there! It's key to find someone who has the range for diverse characters and is willing to send you in-progress screen-caps.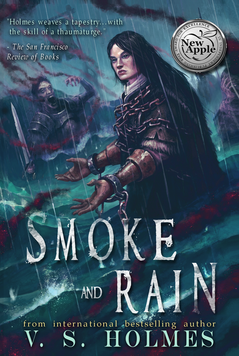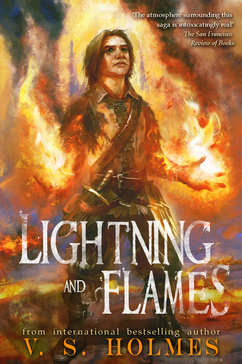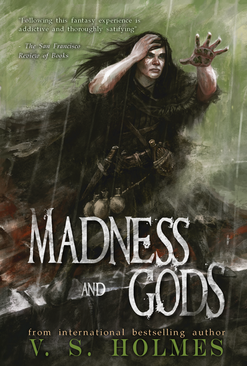 The Nel Bently – STARSEDGE science fiction universe is a shared world with author Cameron J. Quinn. How did a shared universe come to be?
It started out as just trading Easter eggs with my CP–our characters would read each other's books on-page, or reference a side character from the other's work. Then Nel, rake that she is, wound up being the ex of one of Cameron's characters and it just went from there. Nel appears in the second season of Cameron's Starsboro Chronicles and Tabby, Nel's ex, makes a life-saving appearance in my second Nel book, Drifters.
How do you and Cameron J. Quinn keep consistency across multiple novels?
It's tricky! We discuss our work throughout the process and have a running timeline in a Google Doc where we put all world-changing events including–but not limited to–zombie testing facilities, huge explosions, alien invasion, and so forth. Whenever anything big is going to happen we jump on a video-chat and hash it out with the existing canon. Reading the other books in the world isn't necessary to understand either of our series, and her subgenres are urban fantasy vs. my hard sci-fi, but it certainly adds to the world.
You happen to hit two big checkmarks for me – archeology and Tiny Homes. How has your archeology background reflected your writing?
I love it when I find a fellow arch nerd! Unlike Nel, I do contract archaeology, which is a strange hybrid between a migrant cowpoke lifestyle and field science. Archaeology affords me the ability to travel to more obscure, rural places. Many of the anecdotes in Nel Bently are directly inspired by the places and people I encounter. Additionally, archaeology is the study of how people lived and related to one another and their environment in the past. Writing, for me, is essentially the same search for the how and why of characters–ultimately searching for the truth of the story. The only difference is the first requires steel-toes and shovels and the latter a mental machete and the arguably more dangerous wilderness of my mind.
What is it like living in a Tiny Home?
An adventure! I built it myself over several years while staying with my parents to help care for my father. As far as size goes, both my spouse and I are used to small quarters, since I married a fellow archaeologist. The tiny house is larger and better designed than the vast majority of the motels we wind up in, and we're used to giving each other space without actually physically having "space." A lot of the tiny house depictions romanticize it an uncomfortable way, but tiny living was a way to pay for housing out of pocket (which is why it took 5 years to build 272 sq feet!), but finding places to park isn't easy, and we were privileged to have a space to stay while we built. In this country it's the only way we can afford to have a place of our own, though, and we're happy to make a few sacrifices for that.
Any advice you'd like to share with aspiring authors?
The publishing industry is daunting and full of gatekeepers–stick to your guns, and when you're uncertain or pulled from your moorings, look within. Writing is a marathon, so don't quit your day job right away! This work is hard, but so worth it.
Let's thank V. S. Holmes for joining us again to the blog!
Thank you so much for having me by–what great questions!
You can find their latest work on their website, amazon, and the various links below: