This month we have Tosca Lee, New York Times bestselling author as a guest to the blog. She is known for her work such as The Legend of Sheba, Demon: A Memoir, Havah: The Story of Eve, and the Books of Mortals series. She is also a fan of video games! Let's welcome her to the blog.
Hi Tosca Lee, thank you for joining us to the blog, can you give us a brief introduction about yourself?
Thank you for having me!! I'm a girl who grew up with one foot in the make-believe world, who has always loved stories, music, and the arts. Today I'm an author of nine novels (my 10th, a brand new thriller called The Line Between, releases this coming January), am a new wife and step-mother to four, and a city girl who now lives on a farm. (You can follow all my crazy adventures—and our brand new German Shepherd puppy, Timber—on Instagram.)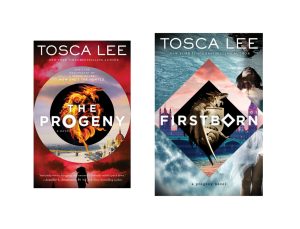 You have a new novel, The Progeny, can you tell us a bit more about it?
The Progeny is the story of Emily Porter, who is living a quiet existence in the North Woods of Maine after having the last two years of her memory erased… only to realize she's being hunted and that everything she erased to protect—even from herself—is what she now needs to survive.
Is The Progeny part of a series or a stand-alone novel?
It's book 1 of 2— Firstborn, the sequel (out now!) takes up in the exact moment that The Progeny leaves off.
What was the first piece of literature that you got published?
An article about my English Bulldog, Oliver, in a pet-lover's newsletter when I was in third grade. J
Have you always wanted to become an author?
I actually wanted to be a professional ballerina from an early age until injuries sidelined that dream in my teens. After that, I wasn't sure—I thought maybe I'd go into advertising or news media. Only during my freshman year of college in a conversation with my dad about one of my favorite novels of all time, The Mists of Avalon, did I blurt out that I'd like to write a book. I'd written my entire life and even won some contests, but had never really thought of it as a thing until that moment.
What was your life like before becoming an author professionally?
Well, my first job out of college was writing on the staff of Smart Computing magazine, so I've been writing professionally for a while. But in between that job and the day I quit working to write fiction full time—a time span of 17 years—I wrote what would become my first two published novels, ran for and won the title of Mrs. Nebraska, competed for Mrs. United States and won first runner-up, and worked as a senior consultant for The Gallup Organization traveling the globe. So it was a twisty, winding road that brought me full circle from writing for a living to once again writing for a living (this time in fiction, on my own terms), but I wouldn't change a thing because I learned so much that has helped and inspired me along the way. J
Your Pinterest is the only spot that mentions you're a rumored vampire – is this true?
I have a longstanding reputation for sleeping during the day and rising at night. My neighbors, before I moved to the farm, were accustomed to seeing my office light on until dawn. Granted, that started to reverse two years ago when I married a single father and became an insta-mom  with three of four kids still at home. These days I really crave my sleep!
Any advice you would like to give aspiring authors?
If you're not published yet, this is a special, protected time. Write a lot. Be bold, experimental, and audacious. It gets harder to write this way as you publish and become constantly aware of those reading your work, which is why my #1 Rule of Writing is "write like no one will ever read this"—like you're writing secret stuff in your closet. It helps keep fear from getting in the way.
And of course, read. Read a lot, ask for help, and be gracious to those around you.
---
Let's thank Tosca Lee for joining us again to the blog! You can find her work on her website, amazon and the various links below: