This month's guest writes in the same genre as I do – horror! Nancy Kilpatrick is known for her work in the horror literary world. She has been a recipient of several awards, including the Arthur Ellis Award, and Fangoria has called her "Canada's answer to Anne Rice".
She has also edited anthologies such as nEvermore!, one of the top 10 anthologies in Canada. So let's welcome her to the blog!
Nancy Kilpatrick, introduce yourself to us.
I'm a writer and editor of horror and dark fantasy fiction. I've just published my 19th novel Revenge of the Vampir King, with Macabre Ink, an imprint of Crossroad Press. This is the first novel of a new series of 6 titles in the Thrones of Blood world. It's available in ebook and trade pb formats. I have in print 220 short stories or thereabouts. And I've edited 15 anthologies, the most recent being nEvermore! Tales of Murder, Mystery & the Macabre (co-edited with Caro Soles for Edge SF&F Publishing). Also, I've scripted a graphic novel, and a story in a graphic novel anthology. As well, a stage play, 2 radio scripts, lots of non-fiction, My work has been translated into 7 languages, yadda yadda. My website is badly out of date but people interested in what I do can friend me on Facebook. I live in Montreal with my calico cat Fedex, who appeared on my doorstep like a parcel. When I'm not writing, I like to travel and view Danse Macabre artwork, cemeteries, crypts, ossuaries, mummies, anything darkly fascinating to me. My current obsession is jeweled skeletons!
You've been in the horror genre for a long time, where did this interest originate from?
When I was a child I used to love horror movies and begged to stay up for the late late show on TV. I used to race home from school to catch Dark Shadows. And whenever I went to the movies, which was a lot with my grandfather, I preferred the horror films. The first book I took out of the big downtown library was The Little Witch.
Some people say that childhood trauma is the key that unlocks the fears that lead people to write horror. And while there were enough traumas in my childhood, deaths in particular, I don't think that's the whole answer. I see horror fiction as a no BS genre, a dark world of night where writers use the glow of a full moon to illuminate what's really going on in the darkness, often presented in metaphor. Life is opposites and hard-to-hold-onto paradox. Without the dark side, we only have half the picture and are only living a half life and ultimately a lie. Horror is like the old and very scary fairytales that were told differently in every country. In one, the witch is killed; in another version she transforms into something even more evil; or turns into a beautiful fairy; or disappears, or murders the princess, or eats the princess and the prince who is supposed to save the princess, and so on. There are endless endings and fairytales tell us about life, that these are lots of possibilities to consider so we can prepare ourselves and adapt as things happen. Horror does the same thing in a very direct, often visceral way, and frequently using a psychological and even spiritual approach. Horror might be the badboy/badgirl of writing, but it's crucial that the dark side be out there and represented because life is not just sunlight and pretty things. People ignore the dark side at their peril.
What was your first published literary piece?
The first was a short story written in my youth and not worth mentioning. And it took a while to get a novel published so I wrote short stories in the meantime and I honestly can't recall the place where my second short story was published. When I finally had a novel published, there were two in the same year, this after years of no interest. One was Near Death, which is actually the second book in the Power of the Blood world. Pocket Books (Simon & Schuster) published it then planned on Child of the Night which is the first chronologically. Yes, it's a crazy business! The other book published that year was in another series, The Darker Passions (published by the now defunct Masquerade Books in NY), which turned into 7 novels eventually, all pastiches of horror classics and extremely erotic and tongue-in-cheek fun. The first novel was Dracula (of course!), writing the scenes between the scenes, using some of the dialogue from Stoker's novel, the characters, etc. It's a crazy and hot and merry romp.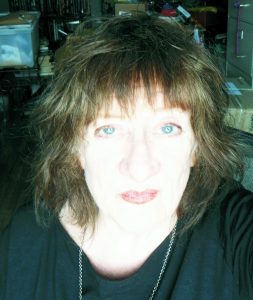 If you could look back at when you first started your career, what piece of advice would you give yourself?
Trust no one! LOL There's a lot in this biz that doesn't work and lowering expectations is part of the evolution for most writers. Every step is a fight and the writing of a book is the easy and fun part compared to the marketing of that book and the promotion that has to follow. What I was only vaguely aware of in the past and am keenly aware of now is that a writer needs to assess who is their reader. Many writers hope to be best-selling authors, but at some point realize that won't happen. It doesn't mean that nothing will happen, just that in the pyramid of all things in life, there are a tiny few at the top and as you go down and down you reach the bottom where most writers languish. There used to be a mid-list category, which I was in. Publishers bought your work because they saw your potential and your books sold, so it was a form of support, hoping you'd climb higher on that pyramid, understanding that almost none would reach the top, or best-seller status. I don't believe that happens now, at least not the way it did, and there is no more mid-list. There are the top few best-selling authors who get all the promotion, and the bottom many who get none. So, recognizing this cold reality, it's important to know who your audience is, which won't be 'everybody'. Once you identify your audience, it really helps in how you put your book out into the world. For me, my audience loves horror and dark fantasy, loves darkness, loves vampires (but I write other things, that's just an example). My readers are intelligent, smart in a lot of ways, literate, like the unusual and even the grotesque, see the humor in life, like stories that tap into undercurrents and the dark side, stories laced with romanticism and eroticism–sometimes violent–, and they do not fear reading violent scenes. My readers realize that fiction is a living metaphor, like the fact that there are manipulative characters and vicious characters and purely evil characters, and that also even the worst characters can make serious mistakes and then turn it around. I'm glad I know this now!
Out of all the stories you have written, what is your personal favourite?
Everything I write is important to me in some way and reflects where I was at when I wrote it. I couldn't really pick a favorite.
What are you currently working on?
I'm working on volume 2 in the Thrones of Blood world: Sacrifice of the Hybrid Princess. This book will be out later in 2017. The series will be at least 6 and maybe 7 books. And while each book is a story unto itself and complete, there is an over-arching plot as well.
I'm also writing a short story for a futuristic anthology. And I have a stand-alone novel to complete.
Any final thoughts you'd like to share with us?
Just my coordinates:
Facebook (there daily)
Twitter (tweet occasionally)
Website (needs updating)
amazon.com (author profile)
Goodreads (hardly ever there but I still appreciate that it exists)
Trade pb: 978-1-941408-99-5
Hardcover it is: 978-1-941408-98-8
---
Thank you for joining us Nancy Kilpatrick to talk about your writing!