My guest today is Simon Rose, author of many novels and nonfiction books for children and young adults. His latest novel, Twisted Fate, has just been released.
So another new book, that's very exciting. So what's this one all about?
Twisted Fate is the second part of the paranormal Flashback trilogy. The first instalment, entitled Flashback, was published in 2015. The novel features ghosts, psychics, and Project Mindstorm, a secret operation involving deadly mind control experiments, as Max investigates events concealed for over twenty years.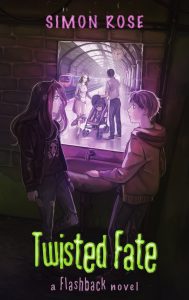 Twisted Fate begins around the time of Max's fifteenth birthday when he receives a box of personal items that once belonged to his mother and soon begins to have strange dreams and experience disturbing visions. Max steadily learns the shocking truth about his mother and her possible connection to Project Mindstorm. Max also meets Julia, a girl with dark hidden secrets, as he attempts to alter his mother's fate and his own, for better or worse. He and Julia embark on a seemingly impossible mission involving deadly psychics, paranormal phenomena, and multiple shifting timelines. On the run and pursued at every turn by the powerful and ruthless Kane, Max and Julia engage in a desperate race against time in an attempt to save countless lives and transform their own destiny.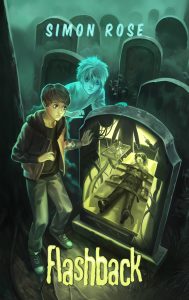 Did you plan at the outset that the books would form a paranormal trilogy?
Flashback was originally a single novel but more or less as soon as it was published I realized that there was more to the story. My father also read Flashback and asked when the next one was coming out. I thought that he was referring to my next novel but he meant the next paranormal adventure and pointed out several areas in Flashback where there were opportunities for more stories. There were also some unanswered questions so I got to work on a further installment. While writing part two I knew that there was a third story and had an idea for a novel involving parallel universe that I realized would be a perfect fit to wrap up Max's adventures. The third part of the trilogy, entitled Parallel Destiny, will be published early next year.
Is it a good idea for authors to write a series of books?
It can be, as long as you have enough material. If the reader is interested enough in the characters and the story they'd often like to read more. However, the story or theme has to be strong enough to warrant more adventures and the reader will not appreciate a novel that's overloaded with filler, just for the sake of creating a series.
From the author's point of view, readers are more likely to buy more books if a series is available and they enjoyed the first installment. Flashback was been very well received so hopefully the other two books will be equally popular with readers.
Do you always write in the paranormal genre?
Flashback and Twisted Fate are in the paranormal genre, but the other novels are all in the science fiction and fantasy genre. The Sorcerer's Letterbox and The Heretic's Tomb are historical fiction adventures set in medieval England, The Alchemist's Portrait is a time travel story, The Emerald Curse is all about superheroes and comic books, The Doomsday Mask is all about the legend of Atlantis, and The Sphere of Septimus involves the characters traveling into another world and is in the same vein as the Harry Potter series, The Chronicles of Narnia, or Lord of the Rings. Future Imperfect is a technology-driven story featuring mysterious messages from the future.
Although most authors are usually known for writing in a particular genre, some occasionally decide to write something a little different, if only to test the waters. I've written seven nonfiction guides for writers, including The Children's Writer's Guide and The Time Traveler's Guide, but also recently published a romantic comedy under a pseudonym. While very different to all my previous work and certainly not for a young audience, writing When Sally Met Sally was an interesting exercise. Whether I'll be creating more novels like this remains to be seen. We'll have to see if the novel continues to sell.
You also work with other authors, don't you?
Yes, I do quite a lot of that these days. I've edited books in all kinds of genres for a wide range of writers in the last few years, offering both substantive and copy editing. I also work as a writing coach and consultant for people with works in progress or those that are struggling with writer's block. Some of the projects I've worked on that have subsequently been published are here on my website. I also offer online courses for adults and ones on a variety of themes for aspiring young writers.
What are you currently working on?
I'm always working on something but currently I'm putting the finishing touches to a dystopian parallel universe novel that I hope will be published later this year. I'm also working on a historical fiction novel set in the turbulent era of the English Civil War in the 1640s. Both these novels are for young adults.
Where can a reader purchase your book?
Twisted Fate is available in paperback and as an ebook worldwide on Amazon, Barnes and Noble, Kobo, iBooks, Indigo/Chapters in Canada, and at many other locations online. Your local bookstore should also be able to order a copy.
You can learn more about Simon and his work on his website at www.simon-rose.com or online at the following social media sites: