This month's guest is Suzy Vadori, a YA author whose novel The Fountain was a 2016 Aurora Award Nominee for the Young Adult category. Residing in Calgary with her husband and three children, she is greatly involved with the literary community.
Without further ado, let's get to know Suzy.
Suzy Vadori, introduce yourself to us.
Hi Konn, thanks for having me! I've been a writer all my life, first as a tween with lots of half-written novels, then as a business writer these past twenty years as part of my operations career, and now as a Young Adult (YA) author. My first novel The Fountain was published just over a year ago.
What was your primary inspiration for writing The Fountain?
When I finally sat down and decided to write seriously, The Fountain came together out of several ideas. Firstly, I've always loved reading boarding school novels. There's something about the setting that I find very inspirational, though I never went to boarding school – never even lived in a college dorm, since I went to university in Calgary where my parents lived and I lived at home during my studies. But somehow, the idea of living on a campus at a young age, with no parental guidance is a captivating subject for me. So, I had a setting for the book.
The main idea for the plot came from me becoming a parent and watching my own kids grow. I want my kids to grow up having every advantage that I can give them – I do – but I worry that having everything you've ever wanted isn't good. So, the fountain that gives kids whatever they wish for at St. Augustus school was born. In The Fountain, Ava wishes that one of her classmates had never existed, and her wish coming true turns her whole world upside down.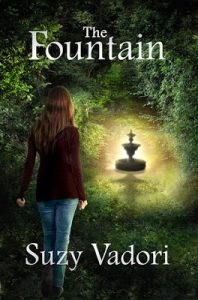 The Fountain is your debut novel, have you written other books in the past?
The Fountain was the first novel that I ever finished, so I'm thrilled that it was published by Evil Alter Ego Press.
Do you plan on writing a sequel for the novel?
The Fountain Series is a planned trilogy. Book two in the series is coming out in 2017. It is called The West Woods, and takes place the year before The Fountain. It's Courtney's story – the story of the girl who was wished away in The Fountain.
The number one question I got from early readers of The Fountain was why Courtney acted the way that she did. In short, she wasn't very nice. But far from being a one dimensional mean-girl, Courtney has a complicated reason that she became who she is when we meet her in The Fountain and we go with her on that journey in The West Woods.
The number two question I get by readers of The Fountain is what happens to Ava and her love interest next? For that, readers will have to wait until book three in the series.
Related to the previous question, what is your next project?
Right now, The West Woods is in editing with Evil Alter Ego Press, but book three of the series is also well under way, it's keeping me busy.
Do you have a preferred genre to write in? Or possibly one you do not like?
I love writing for young adults for lots of reasons. First and foremost, I wanted to write books that I could share someday soon with my own kids (ages 10, 8 and 5). I also have great memories of being a teen myself and those memories seem crystallized in time, which makes it easy for me to relate to the characters I write. Lastly, the pace of young adult books is exciting. Sometimes when I do a read through of my own books, I get so engrossed that I can't stop. That's when I know it's good.
I do have a project I'm working on with a plot that lends itself better to adult fiction. But I love my young adult readers so much I'm working on a way to adapt the story for YA. It's proving tricky, but I'm hopeful I'll find a way, because I'm really excited about writing it.
What started you to pursue your writing career?
I've always wanted to be a writer. While on maternity leave with my third child, I finally sat down and started typing. That project became The Fountain and I haven't stopped writing since.
---
Thank you for joining us Suzy to talk about your writing!
You can find Suzy's work on her website and on Amazon or Indigo:
https://suzyvadori.wordpress.com
The Fountain on Amazon
The Fountain on Indigo
You can follow her on Facebook, Instagram, Twitter and Goodreads at:
https://www.facebook.com/suzyvadoriauthor
https://www.instagram.com/suzyvadori
https://twitter.com/vadoris
https://www.goodreads.com/author/show/14593464.Suzy_Vadori