If there is one thing that I enjoy, it is listening to weird underground music – as you may know through my Instagram account. Particularly I grew up listening to the industrial rock band KMFDM, first hearing them in 1998 with the song Spit Sperm featuring Raymond Watts. If that sounds like the type of music you'd like I'd highly recommend checking them out if you have not already.
Long story short, 3/4 of the original members left in the late 90s and reunited in 2016 for Raymond Watt's project <PIG> with the American Excess Tour. There was only one Canadian date in Toronto back in September, my schedule didn't line up to attend. This was a one of a kind show and some musicians I look up to, something I could not miss. So without hesitation I booked flights, hotel and purchased tickets for the last show of the tour, in Seattle.
First time to Seattle
I am a little ashamed to admit of my lack of worldly travels – clearly I spend too much time writing and working to take real vacations. This short, three day get-away was well worth the re-scheduling of my work. I had yet to go to the United States of America and Seattle was a real treat as a first go.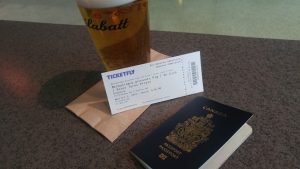 Waiting for the flight at 11am with time to kill meant grabbing a beer and reviewing some of the new writing material I had in the works. I tend to bring my old Asus Transformer tablet for travel, smaller and not a big loss if it breaks.
Getting to Seattle was quick and after taking Uber to the hotel, it was practically time to hike over to the show. Yes, hiking, I did not expect there to be so many hills and certainly got my share of exercise through walking during the trip.
PIG American Excess Final Show
With VIP passes I was able to meet and greet Raymond Watts, En Esch and Gunter Schulz. After loading up on merch I got them to sign my new swag and take a photo with them. It was a pleasant surprise at how thankful they were for everyone who came by to meet and take pictures with them.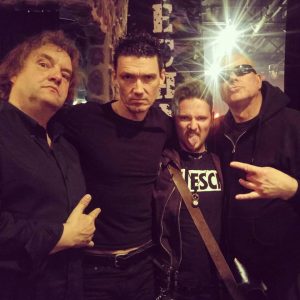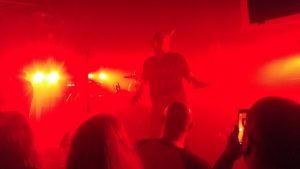 PIG had two openers prior to the show, Peter Turns Pirate and En Esch's solo act. All three bands were well performed and they rocked hard, knowing it was the last show of the tour. I recorded most of the songs from all three bands, hearing classics like Go To Hell, Xcess, Conillon, Brute, and Rope to name a few it was a hell of a evening that extended well beyond midnight.
Dead Phone, Standing in a Metropolis Alone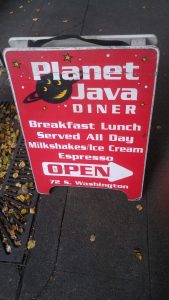 The next day I was a bit hungover and in awe at the wicked show last night and decided to hit up a retro diner a few blocks down before doing some sightseeing. Afterwards, grabbing a coffee at Starbucks, (it is where the company started so I had to give it a go) my phone froze mid Instagram upload and went black, refusing to turn on. This is when I really clued in that I was in Seattle. The phone dying caused a realization that I was disconnected from texting or calling everyone I knew and the ease of Googling anything I wanted. A real eye opener that put me in the present moment.
It forced me to do things like do more introductions with people around me to ask for the time or for directions, then write them down on a piece of paper. This was a short period of the day – something like several hours – but it truly felt like nothing else. Eventually after four cellphone stores and learning about technological advances and limitations since my last phone, I managed to buy an unlocked one that my SIM card fit into and I was reconnected with the world. The downer was most of my footage from the show did not backup in time and I lost them on the broken phone.
Experience Music Project Museum
A secondary goal of the trip was to explore the EMP Museum. They had a special horror film and fantasy exhibits that I wanted to indulge in for inspiration and insight into these genres.
"Can't Look Away: The Lure of Horror Film" provided some insight into horror from directors Roger Corman, John Landis and Eli Roth who talked about their work, how to define horror and creating a sense of fear in their audience. The exhibit also showcased some iconic pieces such as the xenomorph suit, outfits used in the Thriller music video, Mars Attacks! alien sculpture among more.



The fantasy exhibit was focused on lore and story more than a specific media type. It narrowed in on topics such as character classes, world building, magic and story arcs from various authors. Seeing actual notes from authors such as Christopher Paolini was enlightening and motivating to crack the whip on myself and flushing out the rest of Mental Damnation's world.
EMP Museum's featured Star Trek exhibit was also a treat, got to see the original and rebooted costumes of Khan among many other props found within the franchise.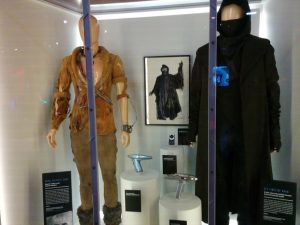 I have Seen the Light – Flying Home
I could write a lot more about my nerdism with KMFDM, PIG and En Esch (like in the sub title), the specifics of the EMP Museum and some of the sightseeing I had done but it'd be pages worth of writing. This post gives a solid outline of the main excitements from the trip. Getting out of my regular routine and the country, even for such a short bit, was rejuvenating and birthed a desire to do it again very soon. Seeing the slight culture differences and the vast history of Seattle began to spark new writing material, meaning it is time to buckle down and start typing away.