I'd like to welcome back Simon Rose for another chat about his latest novel, Future Imperfect, that has recently been published. Back in March Simon Rose and I had discussed his writing background and his novel Flashback. We ran into each other at the Calgary Comic Expo this year, it is nice to meet a person face to face after discussing online. He has an impressive number of books written under his belt and I am excited to welcome him back to the blog!
Simon, what can you tell us about your novel, Future Imperfect?
In the novel, we're introduced to Andrew Mitchell, who was one of the leading experts in highly advanced technology in Silicon Valley, until he vanished following a car accident, which also injured his son, Alex. When a mysterious app later appears on Alex's phone, he and his friend Stephanie embark on a terrifying journey involving secret technology, corporate espionage, kidnapping, and murder in a desperate bid to save the future from the sinister Veronica Castlewood.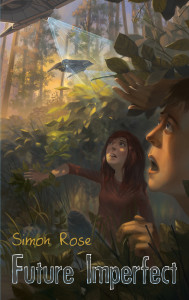 What can readers expect in this book?
The story will appeal to all young readers for whom technology plays such a large role in their lives, whether it's cell phones, laptops, tablets, gaming, or the online world, but it's also a very compelling adventure story, with lots of cliffhangers, twists, and turns.
Have you approached this book differently than your previous works?
No, I don't think so. It was perhaps written a little more quickly than some of the others but some novels are like that. I created an outline and once I was happy with that I began writing the story. Future Imperfect was very enjoyable to write and I don't think I was ever stuck for ideas or encountered any major stumbling blocks. As you'd expect there were a few things to sort out in the plot along the way but these issues were resolved during revisions and in the editing process.
If you had to summarize the book in one sentence, how would you describe it?
Future Imperfect is an exciting technology-driven adventure featuring teenage geniuses, corporate espionage, and mysterious messages.
Where can readers get Future Imperfect?
Future Imperfect is available at local bookstores, online at Amazon Canada, Amazon USA, Indigo/Chapters, Barnes and Noble, Amazon UK, and other locations, and autographed copies can also be purchased directly from me via my website.
Any plans on book signings or a tour for this novel?
Nothing specifically for this novel although I'm in all the usual places online and on social media. I'm also active in the local writing community and conduct book signings at local bookstores on a regular basis. This spring I was at the Calgary Comic and Entertainment Expo and connected with readers at schools and libraries in Montreal and Quebec City during Children's Book Week. In August I'll also be appearing at When Words Collide in Calgary.
You just released a book, have you already planned your next writing project?
My previous novel, Flashback, has two sequels coming out in 2017, one in the spring and the third installment in the summer. These are already completed but there will be revisions and editing along the way later this year. I'm also working on plans for some sequels to The Sphere of Septimus and as I mentioned earlier Future imperfect may generate more adventures. I'm also working on a parallel universe trilogy, which I hope to have completed later this year.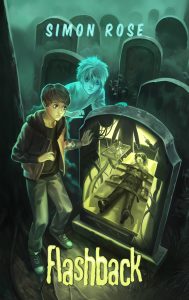 Thank you again Simon for joining us for a second post, a pleasure as always. You can find Simon's work on his website at www.simon-rose.com or online at the following social media sites: