This blog post covers a unique opportunity I had to speak with fellow fantasy and indie author Ben Galley. I met Ben Galley through a random stumble on the web, finding his online self-publishing consulting services, Shelf Help. Ben provided one on one discussion about what my goals as a writer were and offered valid solutions to my current situation. After our session I took his advice into full swing and began building my author platform. Ben was also willing to spend some time in this article to discuss his self-publishing journey and how he got into the writing business. Let's chat with Ben and gain some insight!
Ben, give us a brief introduction to yourself. Why did you get into writing?
The reason I got into writing is, very simply, that I am addicted to it, and I have been since a kid. My parent raised me on some of the best fantasy and sci-fi books around – epics like LotR and Dune, to classics like CS Lewis and Greek mythology. Those books and stories bewitched me, and when I started getting my own ideas, I threw myself into writing. I would spend all my spare time doing it. I wrote my first full-length novel at 11 and have been at it ever since.
Professionally speaking, I didn't begin to publish my books until 2008. I'd just come out of music university (another passion of mine), and was working in bars and clubs while trying to make my way with bands and solo projects. Unfortunately, they simply weren't going anywhere, and I decided that it was time for a change – that I was going to write for a living. That one decision has led me to where I am today.
How come you chose to self-publish vs traditional publishing? Pros vs. cons?
When I fist started researching how to publish, I realised that I could take the skills I'd learnt as an independent musician and use them as an independent author. DIY self-publishing mirrored a lot of the steps to producing music and building a fanbase. I round out that by taking the reins myself, and going DIY, I could keep more of my royalties, keep creative control, retain my rights, get monthly royalty payments and real-time reporting, and work directly with the stores, all things I couldn't necessarily do traditionally. Also, I wanted to publish then and there, not wait months to be taken on by an agent. Or, if I were to be successfully taken on by a publisher, the lengthy publishing schedule. Overall, the opportunities of DIY suited my entrepreneurial mindset, and that's why threw myself into it. I may have been missing out on the advance and punchier marketing power of a traditional publisher, but DIY was what I wanted to do – to carve out a business with myself at the helm, and all the while get to do what I enjoy.
What was your most challenging obstacle you faced when choosing self-publishing?
That's a tough question, as each stage of self-publishing has its tricks and traps. I think the most challenging aspect is professionalism. Maintaining it is a constant effort. Your standards are ever-changing, as is the market and the level of expectation. Being a professional means that you do everything to the very best of your ability, from your cover to your editing, and from your website to how you word an email. It's tough, trying to be indistinguishable from a traditional publishing house, and running a business, but they are possible with a bit of hard work.
Did you have any guidance or mentors when taking this path, or was it more self-exploration?
It was complete exploration. Wandering in unknown territory. I'll be the first to admit I made plenty of mistakes, and came narrowly close to some pitfalls, but each of them taught me an important lesson, and that's how I managed to forge my own method of DIY self-publishing, the method I teach now as a self-publishing consultant. I call it the Shelf Help method, and I believe it's the best way to self-publish.
If you could go back to where you started, what would you do differently?
You know what? Absolutely nothing. I have a code of no regrets, and as I'm currently very happy with where my career as an author is going, then I shouldn't need to regret anything. Any mistakes I made were useful lessons, and so I'm glad to have made them.
You do more than just self-publish your own books, what else do you do in the writing industry?
As well as being an author, I teach other authors from all over the world my self-publishing method through consultations, video chats, online course and events. I do this through my site www.shelfhelp.info and it's a role I'm very passionate about. It's a pleasure to help other authors achieve their writing goals.
Aside from consulting, I also run a company called Truth and Tails with writer Alice Reeves and illustrator Phoebe Kirk. We write children's books that are designed to eradicate prejudice and promote understanding in kids aged 3-8 through really simple messages and beautiful pictures. You can find us at www.truthandtails.com.
Any future plans to broaden your career in writing?
Next on my list is book number 11, while at the same time looking to exploit some more of my rights, such as hunting out translation and audiobook opportunities. That's the good thing about retaining all your rights – they're a form of currency that can help you move forward and achieve your big goals.
What can you share with us about your latest and upcoming novels?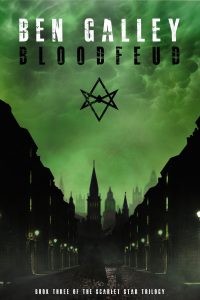 I'm thrilled to say I've just published my tenth book – Bloodfeud – which is also the last novel in the Scarlet Star Trilogy. It's a mash-up of weird west fantasy and alternate history, set in a strange version of 1867, and a coming-of-age tale of a young boy called Tonmerion Hark, who is sent to live on the very edge of civilization – Wyoming.
My next novel will actually be my first standalone novel, which I'm very excited about. I'm just about to start writing it.
Any advice you'd like to offer aspiring writers?
Lots! However that would result in a very large blog indeed. The best thing I can share is a recent post of mine in which I go through my top 5 tips for authors. You can find that here.
Overall, I'd say that you no longer have to worry about anything in your way. Self-publishing has now been established as a viable publishing option, so in short, there's never been a better time to be an author. Gone are the days of vanity publishing. Now we have a straight-forward, agile, and affordable way of getting our books into the hands of readers, and a chance to make a living out of it, possibly a fantastic one at that. What this means is that if you're thinking of self-publishing, just rest easy in the knowledge that you're choosing to publish at a great time, and whenever you're confused, know that advice is readily available. You aren't alone!
---
Thanks again Ben for taking the time to answer the questions and share your thoughts on your journey as an author and advice on self-publishing. Looking forward to your future work!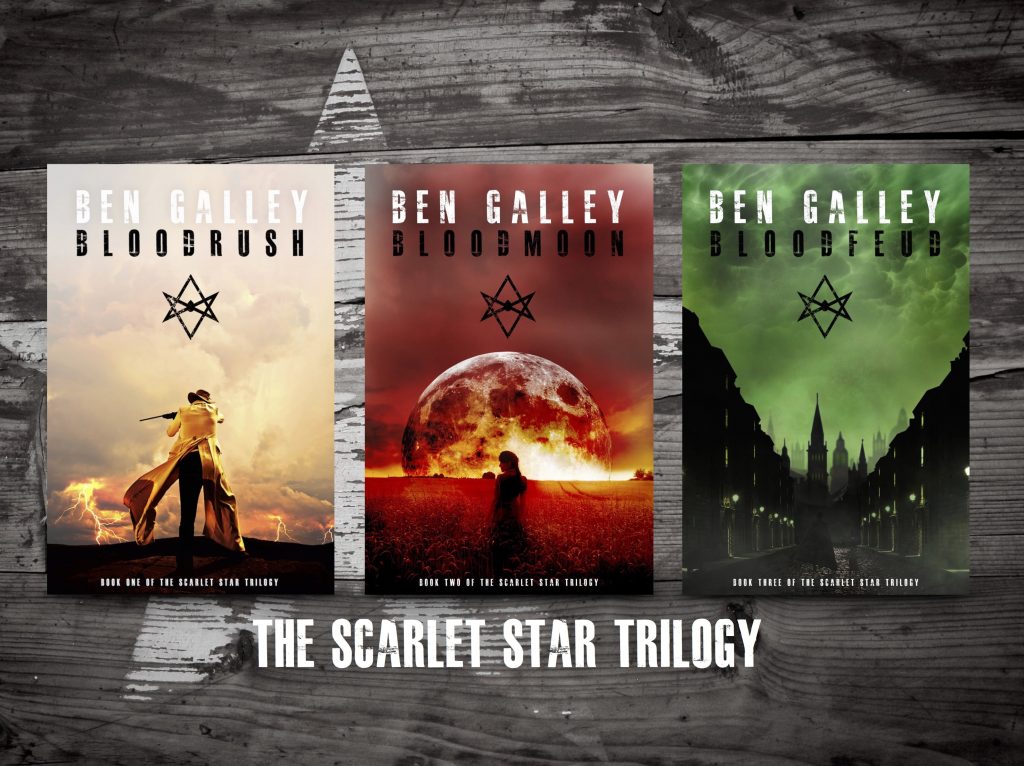 You can check out Ben's novels at www.bengalley.com where you can also find his books, blog and Shelf Help consulting.