This week we have guest author Simon Rose from Calgary who is going to give some insight into his latest novel, Flashback – a fantasy adventure of time travel for teens.
First off, thank you Simon thank you for taking the time to chat with us about your novel.
Give us a brief introduction to you and why you got into writing.
I'm based in Calgary and am the author of ten novels for middle grade and young adult readers, including The Alchemist's Portrait, The Sorcerer's Letterbox, The Clone Conspiracy, The Emerald Curse, The Heretic's Tomb, The Doomsday Mask, The Time Camera, The Sphere of Septimus, Flashback, and Future Imperfect. Growing up I read a lot of science fiction, fantasy, ghost stories, short story collections, and a tremendous number of comic books. At high school, I studied a great deal of history and have retained my interest in the subject up to the present day. I also read voraciously on ancient civilizations, mysteries, the supernatural, and the unexplained. I always had lots of ideas for stories but never thought about creating stories until I became a parent. Around that time the Harry Potter books appeared, as well as The Golden Compass and its sequels, and these books inspired me to create stories about the topics that interested me.
Tell us about your novel Flashback.
Flashback is a paranormal adventure involving psychic phenomena, ghosts, imaginary friends, mind control experiments, secrets, conspiracies, and time travel with a difference. Fourteen-year-old Max is the main character but David also plays a large role in the story, even though he died twenty years earlier. After a terrifying experience in a local cemetery, Max embarks on a mission to right a terrible wrong, putting his own life in danger in the process. Flashback is available as an ebook, in paperback, and as an audiobook and can be purchased online at places like Amazon, as well as from the publisher, Tyche Books, and directly from me.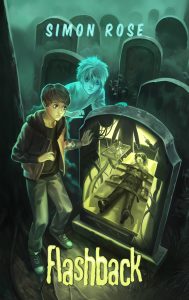 Very cool, what were the inspirations for writing Flashback?
Flashback was one of the first ideas I had for a novel, one of those ideas that you don't really know where it came from but it sticks with you and refuses to go away. You know that you have to develop the story and keep getting new pieces of the puzzle until it all comes together. It was inspired by numerous ghost stories, books, and movies about psychics and the paranormal, past lives and hypnosis, and the concept of going back into your own life armed with your current knowledge to somehow attempt to change the previous course of events, for better or worse.
Is all of your work for young adults?
In addition to the novels, I've written more than 80 nonfiction books books for children and young adults, but have also written books for adults. These include The Children's Writer's Guide, The Working Writer's Guide, The Social Media Writer's Guide, School and Library Visits for Authors and Illustrators, and Exploring the Fantasy Realm. These titles are all available as ebooks or as paperbacks. I'm also a contributing author to The Complete Guide to Writing Science Fiction and have written some picture books for younger readers.
Impressive! Do you have a preferred method to reach out to your fans?
I'm in all the usual places online, such as my website, Facebook, Twitter, YouTube, and so on, but also connect with readers in person at local bookstores when I conduct signings, during visits to schools, at children's writing classes, and young writers conferences, and connect with adults during my classes at the universities. I'll also be connecting with readers in May 2016 when I'm touring schools and libraries in Montreal and Quebec City during Children's Book Week. People can subscribe to my newsletter, which goes out once a month and has details of my current projects, upcoming events, and so on.
Beyond the books, what else do you do as a writer?
In addition to the classes and workshops for children and adults, I offer coaching and editing services for writers in all genres and conduct online writing workshops and courses, such as Writing for Children and Young Adults and Writing Historical Fiction. I also write for magazines and offer copywriting services for websites, blogs, social media, and businesses.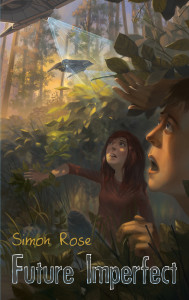 Do you have any upcoming work?
My tenth novel, Future Imperfect, will be published this spring. It's a technology-driven adventure featuring teenage geniuses, corporate espionage, and mysterious messages. I hope I'll be able to tell you more about the novel in the near future, so stay tuned. Flashback also has two sequels coming out next year, one in the spring and the third installment in the summer.
---
Thank you again Simon for the chat! Always a pleasure to discuss work with another author, especially another one in Alberta. Looking forward to see what the Future Imperfect offers.
You can find Simon's work on his website at www.simon-rose.com or online at the following social media sites: