This blog post we have guest author Mercedes Fox who is a self-published horror author from Colorado. A canine enthusiast who has written three books tackling the sub-genre of werewolves. We met on the website Goodreads and have discussed writing on her blog initially then jumped on over to my own to chat about the horror genre in writing.
Mercedes, first off thanks for taking the time to discuss writing horror with me and for the readers. I'm excited to hear your thoughts.
Can you give us an introduction to yourself Mercedes?
Sure thing. Before I got the nerve to publish my first book four years ago, I'd always dreamt about being an author. I've wanted to write since childhood and I have written but that's where it ended. I'm married with three furbabies. Currently I write full time or at least that's what I tell myself.
Tell us about your dog!
I have three. Hank is our first baby. He's a nine year old German Shorthaired Pointer who's very spoiled, though he'll tell you otherwise. He just doesn't get why he can't have all the treats in the bag.
Ackley is the middle baby. He's a seven year old English Springer Spaniel. We call him Velcro dog because he must always be touching you. And he's a big chicken. He had a run in two years ago with a rattlesnake. We were on vacation and he spent the week in the hospital. Since then he's gotten very round. He's about 40lbs overweight but he doesn't eat a lot. I figure it's due to the snake venom. The vet told us it was good he was bit round when he was attacked. The venom died out going through all his fat.
Beamer is the baby. He's a four year old German Shorthaired Pointer. He's very rotten and knows he's got his mom wrapped around his little paw. He's always on the go. He runs everywhere at high speed. We want to breed him at some point. We want to keep his bloodline going. He's wicked smart and his bloodline is full of field trial champions.
All three are hunting dogs and good at it, but first and foremost they are our kids.
How come you decided to write about horror (and werewolves)?
I've loved werewolves and werewolf novels as far back as I can remember. I write about them because that's what I like to read.
Where does your horror inspiration come from (beyond canines)?
Oh I have a very wild imagination. I can scare myself pretty easy.
Horror can be quite niched or criticized for unoriginality, how do you approach writing horror?
This is very true especially of the vampire and werewolf genre. With werewolves you can play around with their myth a bit. Such as how one becomes a werewolf, do they require a full moon or are they just mindless beasts eating everything. I combine a little of everything and wallllaa you have my werewolves. One thing that has always irked me about werewolves is the tail. For some reason if the werewolf in question walks on his hind legs he has no tail. But if the werewolf looks just like a wolf they have a tail. My werewolves have to have a tail and snout. I've liked the smashed in face.
What do you find is the biggest challenge in writing horror?
Gore or not to gore. I like gore, descriptive killing and explicit sex. To me that's required. I enjoy books that shock and/or scare me. I try to write that.
Do you plan on writing in other genres or topics?
I want to try a who-done-it mystery but I'm not sure if I can write something without a werewolf in it?
How long have you been writing for (personally and professionally)?
Since childhood for myself. About four years ago I decided to be a real author.
You self-published, how come?
No way did I want to wait on publishers or get the rejections. And I don't like the idea of the publisher owning my work. It's my story, my words and I don't care to be told how to write it or rewrite it. Also the time frame—self publishing means I can put it out now.
Do you spend more time marketing online (social networking, blogs, etc.) or in person (book signings, consignment stores, etc.)?
It's all online. I've tried Barnes and Noble and a couple local stores. Barnes and Noble has never bothered to even say No. The local book store has closed down which was very sad, they were the only one in town. I did sell a couple copies there.
Any final thoughts you'd like to share with us?
I hang onto the hope I might someday see my books on the shelf in Barnes and Noble.
---
Thanks for sharing your thoughts about horror, werewolves and writing Mercedes! It was quite insightful to hear your writing journey. I too have the same thoughts about traditional publishing and have experienced struggles with book stores/consignment as a self-published author. Rejection is a common trait shared amongst writers in the industry, keeping your head up high and learning from the experiences is the best way to carry on.
Until next time!
You can find Mercedes Fox's novels on Amazon: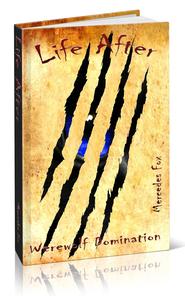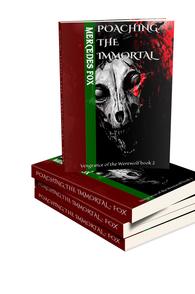 Click on a book above to visit it on Amazon.
Or follow her on Twitter or Facebook or on her website.