National Novel Writing Month is almost here. If you are unfamiliar with the event, it is a month-long participation of writers from around the world who write full manuscripts of at least 50,000 words. This can include fiction, non-fiction or short story compilations. The goal is to have a finished script by the end of the month.
If this sounds like something that would interest you, it is not too late to sign up. You can get going today. If you already have an account, then you might be as anxious as I am to get going on your novel. A question that might be coming to mind is – where do I begin?
What do I write for NaNoWriMo?
This is arguably the most difficult question with writing and it expands beyond NaNoWriMo. The better question would be, what inspires you to write? (Coming up with a premise is not an easy task and will be tackled in a future blog post.) If you have some ideas lingering in the back of your mind or in a notebook, this is the perfect opportunity to experiment with it. NaNoWriMo is only a month-long dedication and gives you enough time to test out a story concept without investing months, if not years, on a novel. There is also nothing stopping you from going back and editing the novel after NaNoWriMo has finished. Revise the plot and improve on the storyline and polish the concept.
Should I do any pre-planning?
That is a matter of personal preference when it comes to your writing process. If you are more of a "grab the bull by the horns" person, then pre-planning might not be for you. As long as you have the initial concept in your mind, give it all you got!
If you prefer to do some pre-planning, the objective is to create a roadmap of the story and ease some of the potential creative blocks that you could run into. There are three sections I'd recommended for pre-planning NaNoWriMo:
Write a Story Synopsis
Draft a summary of the whole story from start to finish (I know, not easy to sum up a whole novel that you have in your brain without explaining too much).
Do not extend too much further than three or four paragraphs.
Think of it as a 10,000 foot view of the story. What are the main plot points that move the primary storyline forward? That is what you want to focus on.
Here is another perspective to view the synopsis draft – how would you explain the story to someone in person within 30 seconds? Outlining the whole story will help you visualize the whole plot and generate new ideas. Remember, nothing is permanent. The synopsis can be altered once you start writing chapters. You can also use the story synopsis for your novel's description on the NaNoWriMo website. It will give people something to talk about.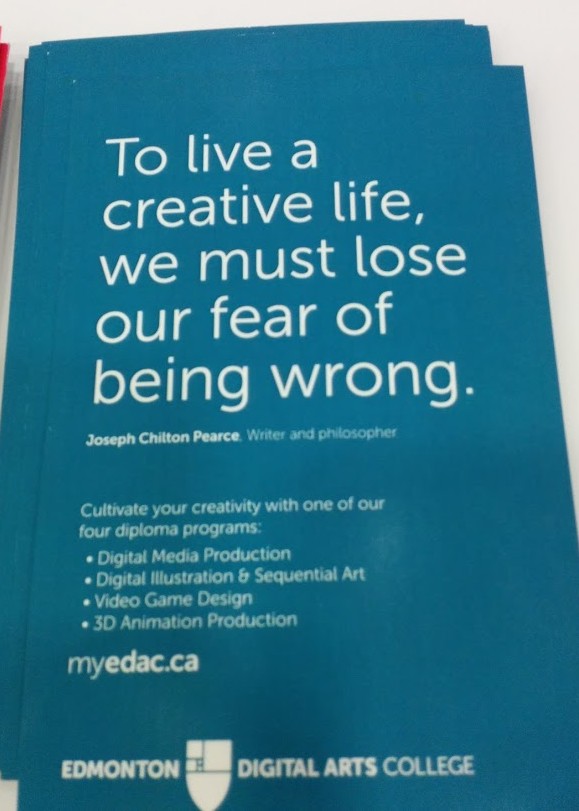 Food for thought in regards to getting your metaphoric hands dirty with your writing. Go ahead, be wrong!
Postcard taken from the EDAC (Edmonton Digital Arts College) booth during Eek! Fest 2015.
Draft Character Sheets
Keep character sheets simple and focus on key defining features for each character. The concept behind these sheets is to ensure that your characters stay within character. If they are to do anything drastic beyond their behavior, make note of it in the character sheet and develop a reason for the sudden switch in action during the story. For the sheets themselves, keep note of:
Character name
Their background/history
Their involvement with the plot
What their motive(s) is
What they love and hate
Notable physical features
Chapter Outlines
This is the most challenging aspect of the three steps, yet it is also the most important.
Chapter outlines should be key points that move the plot forward.
Each chapter outline should complement the story synopsis and elaborate it in further detail. Any sub-plots, change in scene, character development or action that progresses the story should be explained in each chapter outline.
The length of outlines will vary and can contain as much information as you see fit. Keep them in bullet point form and in short statements. Save the detailed descriptions for when writing the chapters. Treat the chapter outlines as a roadmap to move the story to the final conclusion. They don't need to be perfect either. Remember, cranking out the first manuscript in a month is an achievement in its own right. You can come back and edit/revise the synopsis, character sheets, chapter outlines and manuscript afterwards.
---
Each of the three key points could have an article written about them individually. They all serve an important role for pre-planning your novel. The point for pre-planning in NaNoWriMo is to have a basic guide to help you when diving into the intensive month of writing.
Spend no more than an hour on each of the three points. Invest your time during NaNoWriMo.
The next blog post will expand on finding inspiration for the first week of NaNoWriMo. Facing the blank page can be daunting, they are your first words for your new novel. If you have any additional pre-planning techniques for writing, share your thoughts in the comments.