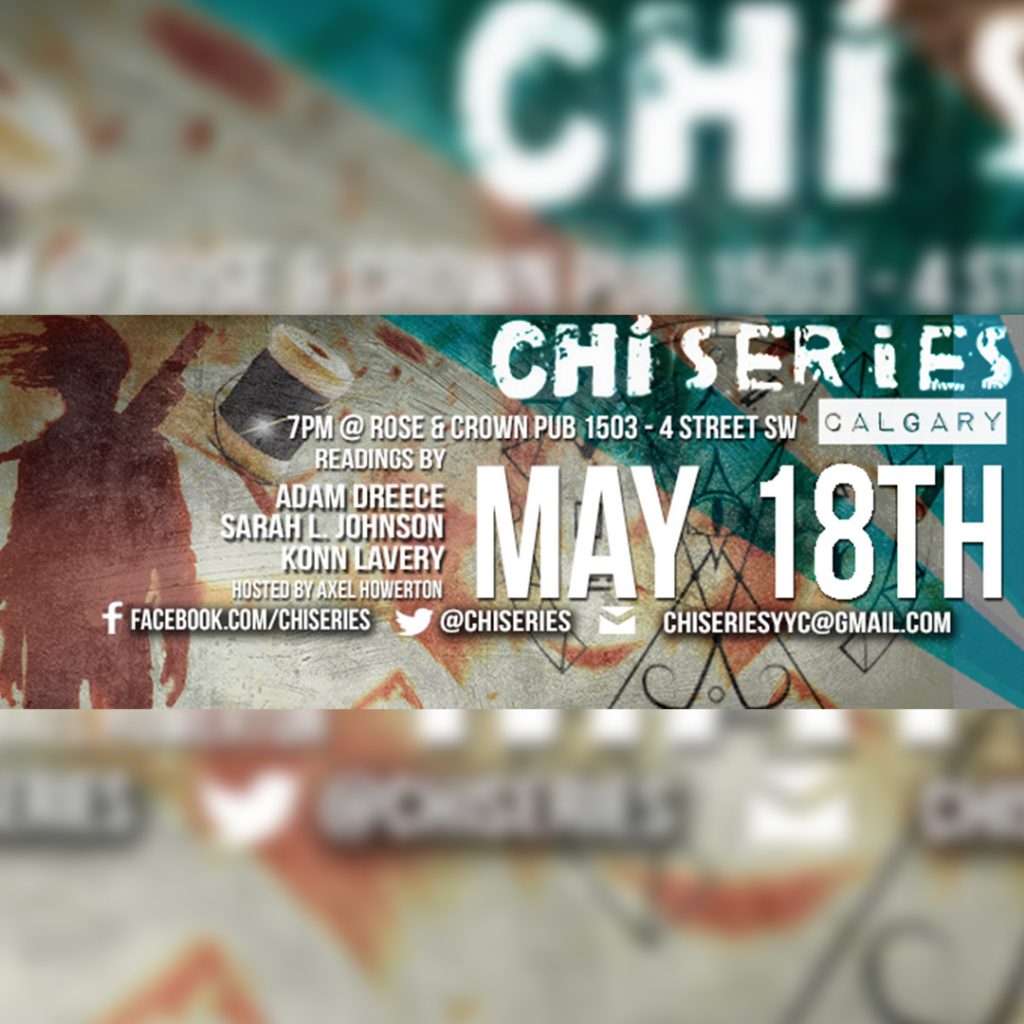 ---
I am pleased to be a part of The Chiaroscuro Reading Series event in Calgary's Rose & Crown Pub. I'll be joining fellow authors Sarah L. Johnson and Adam Dreece to give live readings and mingle.
When?
Thursday, May 18 at 7 PM – 9 PM
Where?
The Rose & Crown Pub
1503 4 Street SW,
Calgary, Alberta
T2R 0Y3
Event Description
Join us for the Chiaroscuro Reading Series, Calgary Edition with host Axel Howerton! Featuring:
SARAH L. JOHNSON lives in Calgary, where she coordinates literary events for the city's oldest indie book store, knits rectangular items, and runs ultra marathons. She does daily battle with curly hair, has a filthy mouth and is at least three years behind on television programming. Her short fiction has appeared in Room, Shock Totem, Crossed Genres, the Bram Stoker nominated Dark Visions 1 (Grey Matter Press), and Year's Best Hardcore Horror Vol. 2 (Comet Press). Her short story collection, Suicide Stitch (EMP Publishing) was released in 2016, and her debut novel Infractus (Driven Press) is coming in 2017. Find her on Twitter @leadlinedalias or check out her website http://www.sarahljohnson.com/ for inconsistent blogging.
ADAM DREECE kicked off his indie author career with his best-selling steampunk meets fairy tale series, The Yellow Hoods, which struck a chord with kids 9-15 and adults. After four books in the series, the former software architect put out two more young adult books, the post-apocalyptic fantasy book The Wizard Killer – Season One, and then his science fiction novel, The Man of Cloud 9. The first two novels in The Yellow Hoods series, as well as The Wizard Killer, have been finalists for Book of the Year awards from the Independent Author's Network. Find him at htp://www.adamdreece.com , on Facebook as Adam Dreece, or on twitter @adamdreece
KONN LAVERY is a Canadian horror and dark fantasy writer who is known for his Mental Damnation series. The second book, Dream, reached the Edmonton Journal's top five selling fictional books list. He started writing fantasy stories at a very young age while being home schooled. It wasn't until graduating college that he began professionally pursuing his work with his first release, Reality. Since then he has continued to write works of fiction ranging from fantasy to horror. His literary work is done in the long hours of the night. By day, Konn runs his own graphic design and website development business. These skills have been transcribed into the formatting and artwork found within his publications supporting his fascination of transmedia storytelling. Find him at http://www.konnlavery.com/ , on Facebook as Konn Lavery or on Twitter @konnl